How did Sara Blakely become the youngest self-made billionaire at the age of 41?
She went from just $5,000 in the bank to founding the legendary women's undergarments company, Spanx.
It all began when Sara wanted to wear white pants to a party and didn't have the right type of garment to go underneath so she took a pair of panty hose and cut out the bottoms.
Prior to that she had failed the LSAT thinking she wanted to be a lawyer so ended up selling fax equipment door to door. What I love most about Sarah's tips here is that they can be duplicated. We may know all three of them but it is critical to APPLY them.
Sara Blakely- 3 Tips For Entreprenuel Success
1. Feel the fear and do it anyway. Do the things that make you totally uncomfortable.
2. Visualize your desired outcomes.  See the image in your mind on a consistent basis.
3. Get your goals out from inside your head onto paper.
Favorite Quotes from Sarah:
"I feel like money makes you more of who you already are," was quoted in Forbes magazine after making the billionaire list for the first time. "If you're an asshole, you become a bigger asshole. If you're nice, you become nicer. Money is fun to make, fun to spend and fun to give away." My first account was Neiman Marcus. Sara Blakely
"I cold-called them just like I had cold called businesses when I was selling fax machines." 
Sara Blakely
"Don't be intimidated by what you don't know." 
Sara Blakely
"You have to visualize where you are headed and be very clear about it. 
Sara Blakely
I never worked in fashion. I just needed an undergarment that did not exist so I created it." 
Sara Blakely
"When something negative or unexpected happens I ask what is the blessing in this? 
Sara Blakely
 "Don't let what you don't know scare you, because it can become your greatest asset. And if you do things without knowing how they have always been done, you're guaranteed to do them differently." –  Sara Blakely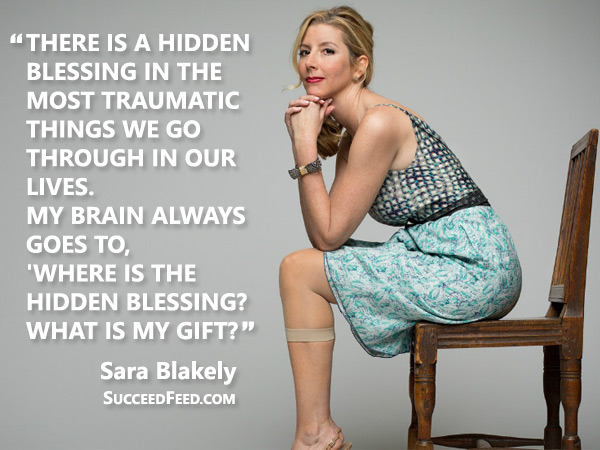 What do YOU want to accomplish more of in your life, share in the comments below.